2020 Ram 2500 awarded Motor Trend Truck of the Year
The easiest job in the automotive industry has to be marketing pickup truc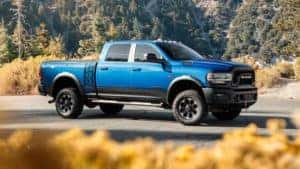 ks. We're all familiar with the ads: An over sized dually slams through a concrete wall, a voice actor in his best movie trailer baritone introduces the "all-new, more capable" Brodozer 4500 as the camera pans back showing the truck towing the U.S. Navy Pacific Fleet.
This approach to advertising has trapped pickup engineers into a vicious cycle of chasing max tow and payload numbers—frankly, to the point that the added performance and capability is of little use to the average buyer. After all, once your combined truck and trailer weighs more than 26,001 pounds, legally you should be carrying a commercial driver's license.
So what happens if you take the mad men out of the driver's seat and let the engineers and designers focus on performance, capability, and versatility, the things that real truck buyers both want and need? You get MotorTrend's 2020 Truck of the Year, the Ram Heavy Duty.
Rams have traditionally been big value plays when compared to its Ford and GM rivals. The HD is no exception. Prices for the 2500 Tradesman start at just $35,090, undercutting both the Chevrolet Silverado and GMC Sierra 2500HDs and costing customers just $345 more than a Ford F-250. At the other end of the pricing spectrum, the Ram 3500 Limited starts at $64,045, coming in less than both the GMC Sierra 3500HD Denali and Ford F-350 Limited while offering one of the most luxurious cabins we've ever seen on a pickup truck (if not the most luxurious), plus a standard equipment and options list that its competitors can't yet match. RAM offers a powerful EcoDiesel engine option for efficient muscle as well. Whether you want to learn more about the Ram or want to be informed on CDJR news, we're your go-to source!